Heading into fantasy baseball draft weekend, you'll need the most up-to-date fantasy baseball hitter rankings for every position.
We've got you covered at SI.com. Our complete position-by-position rankings are here.
But, in case you missed some of the news out of spring training, here are some of the hitters who are the biggest risers and fallers in recent fantasy baseball drafts.
SEE ALSO: Risers and Fallers: Pitchers
Fantasy Baseball Drafts: Hitters Stock Up
Jurickson Profar, OF, Rockies
Profar recently signed with Colorado and he automatically gets the Coors Field bump. Add to that his likely positional flexibility, the potential for double-digit homers and double-digit steals, and the scarcity of talent at the outfield position this season, and it makes sense that Profar is quickly moving up draft boards.
Jarred Kelenic, OF, Mariners
Yes, Kelenic has teased us before with great spring training stats, but it's just too hard not to bite when he's hitting .410 with four homers and three stolen bases. Plus, he's still only 23.
Blake Sabol, C, Giants
A catcher makes the list! Sabol has been excellent this spring, slugging .694 across 36 at-bats. That's currently the best slugging percentage in the league. Surely he makes the opening day roster for the Giants.
Alec Bohm, OF, Phillies
Bohm has been a different player this spring. Though questions about his defense likely still remain, his offensive power seems to have gone to the next level. Bohm is slugging .583 with four homers across 48 at-bats this spring, and he qualifies at a thin third base position.
Esteury Ruiz, OF, A's
Ruiz has the potential to lead the league in steals this year, but he's also showing some surprising hitting potential with 14 RBI and a .325 batting average across 40 spring at-bats.
Anthony Volpe, SS/MI, Yankees
Volpe is MLB Pipeline's fifth-ranked prospect and so far this spring, he has a .308 average with a .438 OBP, 1.028 OPS, two homers and 12 hits across 39 at-bats. He looks in line to crack the opening day roster for one of the league's most productive lineups.
Brett Baty, 3B, Mets
Baty has also had an excellent spring, improving defensively and showing off offensively, too. The Mets may be able to make room for him with the extra roster spot created by the Edwin Diaz injury or if Brandon Nimmo is slow to come back from his sprained knee and ankle.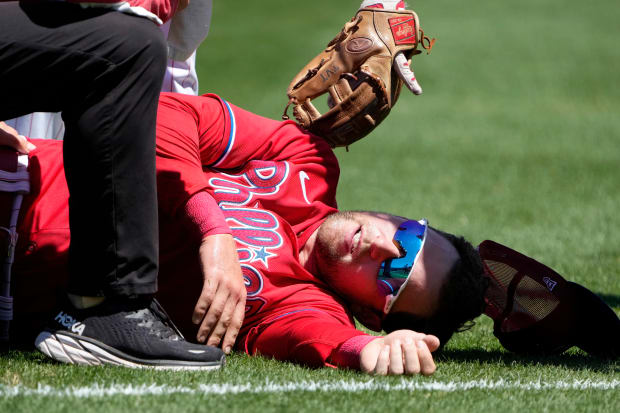 Fantasy Baseball Drafts: Hitters Stock Down
Rhys Hoskins, 1B, Phillies
Rhys Hoskins was carted off the field on Thursday after suffering a non-contact left-knee injury while trying to field a ground ball. Sadly, it's reported to be a torn ACL and Hoskins will miss the season.
Jose Altuve, 2B, Astros
The veteran second baseman and former AL MVP was struck in the hand during the World Baseball Classic and will miss at least two months after having surgery on his fractured thumb. Even still, Altuve should probably be drafted within the top 100 picks.
Vaughn Grissom, SS, Braves
Once the assumed starter at shortstop for the Braves, Grissom was sent back down to Triple-A earlier this week.
Kolten Wong, 2B, Mariners
The park downgrade in Seattle plus a poor spring training have fantasy managers feeling skittish. Still, Wong could be an inexpensive source of speed later in your drafts.
J.D. Martinez, DH, Dodgers
Besides the fact that Martinez can only slot in at utility, limiting his usefulness for fantasy managers, he's also struggled this spring, striking out 13 times with only one home run.