Heading into fantasy baseball draft weekend, you'll need the most up-to-date fantasy baseball pitcher rankings and cheatsheets.
We've got you covered at SI.com. Our complete rankings are here.
But, in case you missed some of the most recent news out of spring training, here are some of the biggest risers and fallers among the starting pitchers and relief pitchers.
Fantasy Baseball Drafts: Rising Up Rankings
David Peterson, SP, Mets
With news that Jose Quintana will be missing a minimum of three months, David Peterson looks in line to be the fifth starter for the Metropolitans. He's been fantastic in preseason, striking out 13 across 12 innings with zero earned runs.
Mitch Keller, SP, Pirates
Keller was named the Opening Day starter for the Pirates and he's looked good so far in spring, striking out 20 batters with a 3.45 ERA. He's added a cutter, and it seems to be working.
Nick Lodolo, SP, Reds
Word is out on Lodolo, and he's probably not a sleeper anymore. Lodolo made both my sleeper and my breakout list this season, and it looks like drafters agree. Check out more about Lodolo here.
Jack Flaherty, SP, Cardinals
There have been concerns about Flaherty's health, but if spring training is any indication, Flaherty could be a draft day bargain. So far he's thrown 14 Ks across 16 innings, and he should be the fourth starter for a team expected to win its division. Don't forget he is only a few seasons removed from being a Cy Young candidate.
Reid Detmers, SP, Angels
Detmers has added velocity, and his fastball is now sitting in the 95-97 mph range as compared to 93 last year. His slider has also bumped up to 91 from 87, and it looks like his visit to Driveline Baseball for offseason training is paying off. So far this spring, Detmers has pitched 17 innings with a 2.35 ERA and 23 strikeouts.
Matthew Boyd, SP, Tigers
Boyd has moved from deep sleeper to sleeper, so don't expect to be able to grab him on the waiver wire. He's healthy, and he's home. Boyd has struck out 21 batters across 13 innings this spring with a 3.46 ERA.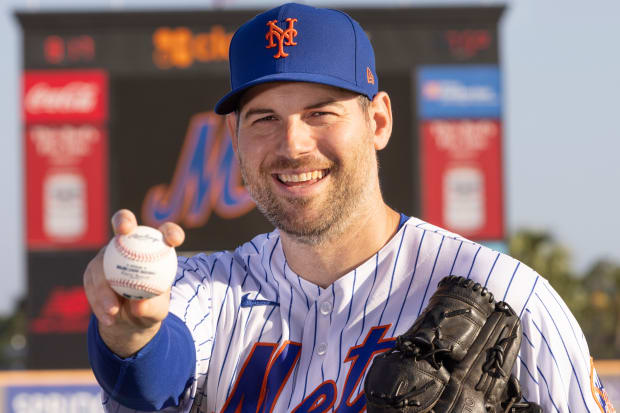 Adam Ottavino, RP, Mets
WIth the unfortunate injury to closer Edwin Diaz that will likely cost him the season, Ottavino gets a bump as he will likely pick up the most saves for the Mets, who are expected to be a competitive team.
David Robertson, RP, Mets
Robertson will also get save opportunities for the Metropolitans in Diaz's absence. He's better vs. lefties, and should be used for saves in plenty of situations.
A.J. Minter, RP, Braves
Minter will likely get the first save opportunities for Atlanta with Raisel Iglesias beginning the season on the IL with shoulder inflammation.
Joe Jimenez, RP, Braves
The Braves acquired Jimenez in the offseason, and he could also be in line for some save opportunities for the Braves until Iglesias returns.
Michael Fulmer, RP, Cubs
Fulmer has a new "sweeper" and looks to be the favorite for most of the ninth-inning opportunities.
Fantasy Baseball Drafts: Falling Down Rankings
Jose Quintana, SP, Mets
Quintana is expected to be out until at least July after having surgery to repair a stress fracture in his ribs.
Adam Wainwright, SP, Cardinals
After a successful showing in the World Baseball Classic, Wainwright will open the season on the IL with a groin strain.
Edwin Diaz, RP, Mets
The former number-one ranked closer will likely miss the entire season after a freak celebration knee injury during the World Baseball Classic.
Raisel Iglesias, RP, Braves
Iglesias opens the season on the IL due to shoulder inflammation.
Jose LeClerc, RP, Rangers
LeClerc is assumed to be the opening day closer for the Rangers – but with his neck issues, he could be on a short leash.