LITTLE ROCK, Ark. -- It may even be more popular than the actual game inside War Memorial Stadium on Saturday.
Yes, we're talking about tailgating.
Even though reserved and commercial tailgating spots are already sold out for Saturday's showdown featuring Arkansas vs. Ole Miss, there are plenty of other ways for you to get in on the tailgating action.
Here's a handy-dandy guide thanks to the folks at War Memorial:
General Parking Tailgating
General Parking Tailgating on War Memorial Golf Course is one of the longest standing traditions at the stadium. Fans line up early in the morning to get the best spaces. General Parking Tailgating is available on a first come basis, and fans pay a $20 fee when they arrive. There are no trailers allowed in the general tailgating area. Entrances into the General Parking Tailgating section are available in two locations. Fans can enter off Interstate 630 onto Fair Park heading north and turn onto Clubhouse Drive, or fans can enter from Markham to Taylor Street. Parking attendants will direct each vehicle to the next available space.
Reserved Tailgating (now sold out for Oct. 13)
The newest tradition at War Memorial Stadium is Reserved Tailgating. Fans can reserve one of over 400 spaces on the War Memorial Golf Course located directly across the street from the stadium. Individual Reserved Spaces are $150 each. There are no trailers allowed in the Reserved tailgating area. Fans must follow the rules and regulations for tailgating. Spaces sell out every year. Reserved Spaces will be sold through the War Memorial website this year. Stay up to date by liking War Memorial Stadium on Facebook. Here is a map of the Reserved Tailgating Section: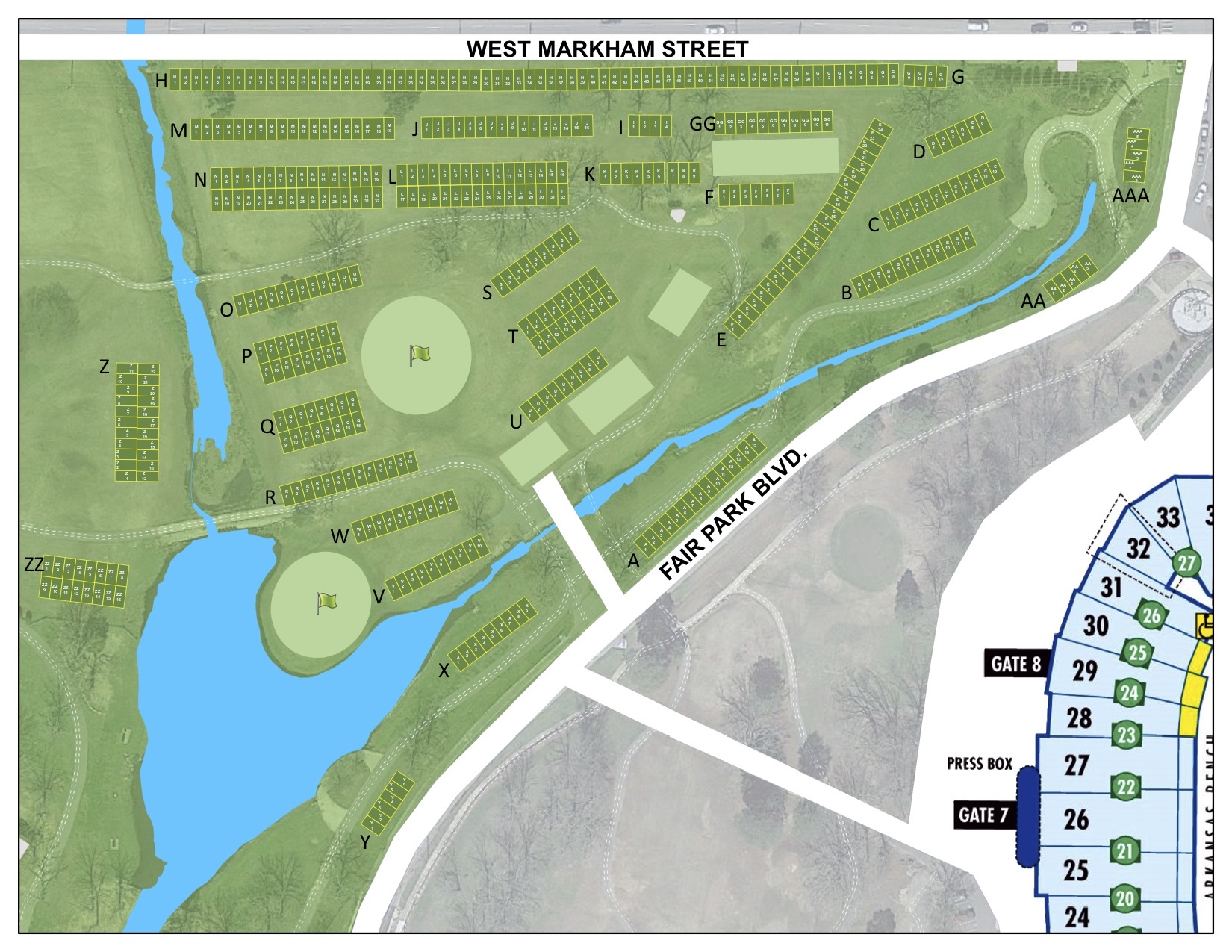 Commercial Tailgating (now sold out for Oct. 13)
Commercial Tailgating is available on the North Lawn, along Markham Street just in front of the stadium. This space is available for corporate tailgate parties. Businesses can purchase space on a per game basis.
Mike Anderson addressing the media after the Hogs fell to the Ole…

After 5 SEC Games, Arkansas Basketball: Not Physical Enough, Not…