GlobeNewswire
Veyond Metaverse Successfully Completes Historic Digital Surgery, Connecting Surgeon in France and Patient in Myanmar
Veyond Metaverse uses its Veyond Connect™ extended reality platform to facilitate a real-time surgery over 8,800 kilometers, bridging surgeons in Paris, France and Yangon, Myanmar.
News provided by
Veyond Metaverse
Sep 19, 2023, 9:44 AM ET
San Francisco, California, Sept. 19, 2023 (GLOBE NEWSWIRE) -- Veyond Metaverse, a startup harnessing extended reality (XR) technology for healthcare, has achieved an unprecedented medical breakthrough: facilitating a real-time digital surgery. A proctor surgeon in Paris, France collaborated with a counterpart and patient in Yangon, Myanmar – a staggering distance of 8,800 km apart. Central to this monumental feat was the company's Veyond Connect™ platform.
On September 13, at 8 AM Paris time and 12:30 PM Yangon time, Prof. Dr. Thierry Flam, a renowned urology expert from Saint Jean de Dieu-Clinique Oudinot in Paris, proctored a surgery. Collaborating with him was Dr. Su Myat Maw from Shwe La Min Hospital in Yangon. Despite being thousands of kilometers apart, the Veyond ConnectTM platform enabled them to operate as if they were side-by-side in the same room, culminating in a successful procedure.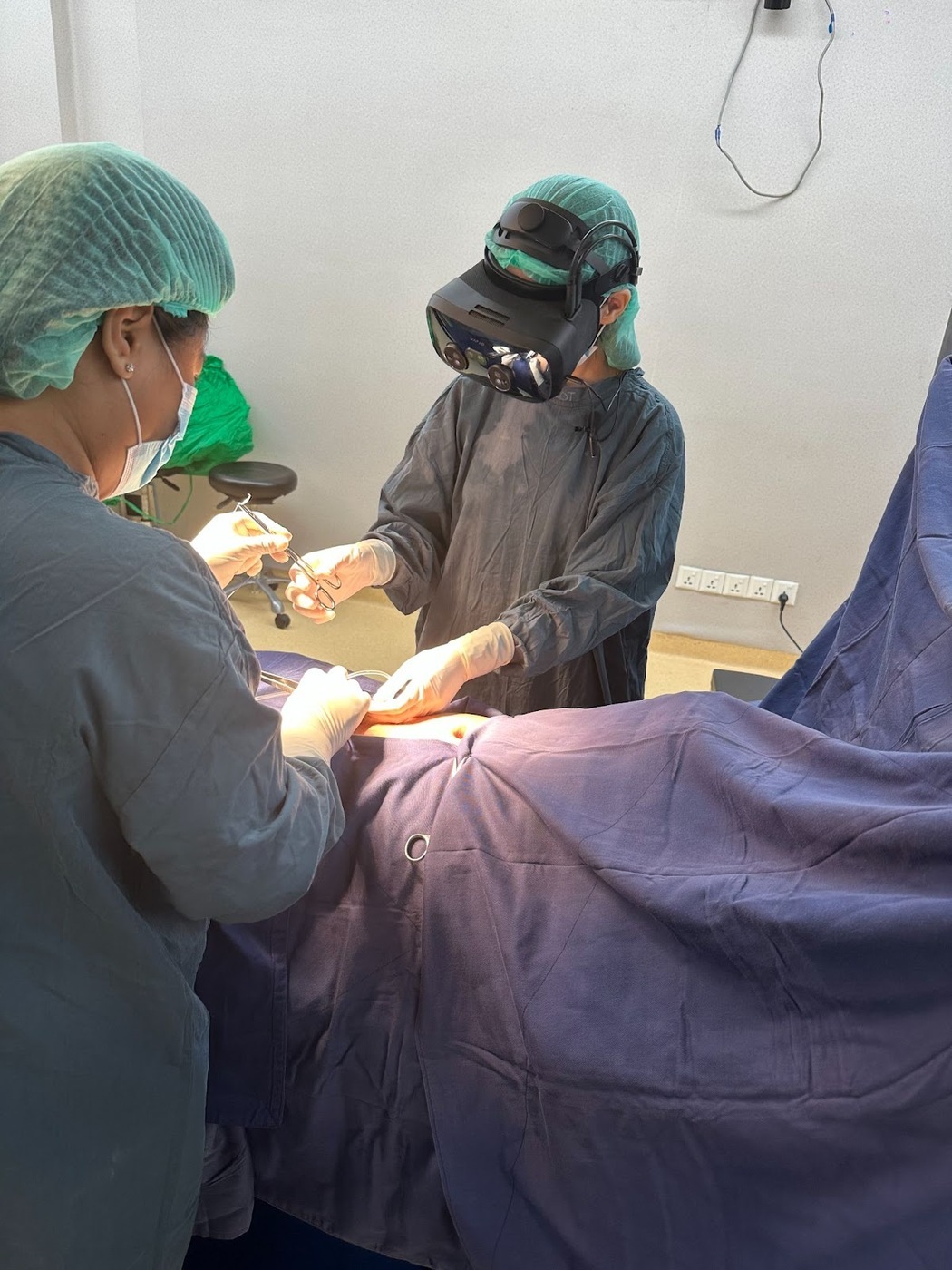 Dr. Su Myat Maw, Shwe La Min Hospital, Yangon, in a middle of digital surgery
According to Veyond Metaverse, this accomplishment has far-reaching implications in the fields of surgery and medicine. With a report by The Lancet Commission on Global Surgery revealing that nearly five billion individuals lack access to essential surgical care, there is huge demand for surgical expertise all over the world. By leveraging cutting-edge technology, Veyond Metaverse is reimagining and democratizing global healthcare delivery.
This groundbreaking procedure is just the beginning, as Premier Link, a significant player in Myanmar's healthcare industry, has partnered with Veyond Metaverse to revolutionize the way healthcare is delivered in remote areas. The two companies are partnering to establish digital clinics across Myanmar to bring expert healthcare to the country's farthest corners. This will help elevate Myanmar's healthcare to match global standards, increasing accessibility and significantly improving healthcare quality for millions.
Adam Choe, Joon Chung, and Prof. Dr. Flam, the founders of Veyond Metaverse, highlight the global impact of Veyond Connect™. The technology will allow expert surgeons to lead and instruct their colleagues in undertaking complex and intricate surgeries, bringing their expertise even to far-flung regions. The company's innovations have received international recognition, including a recent nomination for "VR Healthcare Solution of the Year" at the 7th International VR Awards and Digital Health Awards 2023.
"We're not just pushing tech boundaries or building a sophisticated simulation," says Choe. "We're creating a platform for real, impactful work and collaboration. Our primary goal? To democratize access and transform the way healthcare is delivered worldwide."
Shwe La Min Hospital is steadfast in its commitment to bring the finest healthcare solutions to Myanmar. With an eye on the future, the hospital is actively seeking to expand its collaborations with other leading medical centers overseas.
"This partnership is about far more than just surgical precision. We're laying down the foundations for broader healthcare access, aiming to serve millions in Myanmar." say Dr. Aye Su Maw and Dr. Pyi Thein Kyaw from Shwe La Min Hospital. "In a time marked by rapid technological advancements, this surgical collaboration stands out, not just as a testament to human capability but as a symbol of progress. Veyond Metaverse and Shwe La Min Hospital's joint effort represents a proactive step toward a world where quality healthcare is not bound by borders but is universally accessible."
Media Contact:
Contact: Adam Choe
Email: info@veyondmetaverse.com

NOTE: This content is not written by or endorsed by "KARK", its advertisers, or Nexstar Media Inc.
For inquiries or corrections to Press Releases, please reach out to GlobeNewswire.